President Trump served 360-year-old soy sauce at South Korean state dinner
It's widely known that President Donald Trump prefers ketchup with his steak, but he was treated to an altogether new condiment in South Korea the other night.
At Tuesday's state dinner in Seoul, guests — including Trump — were served a four-course meal filled with local delicacies, but it's the main dish that's making headlines: grilled beef ribs with 360-year-old soy sauce.
As The Guardian notes, soy sauce is a staple of the region's cuisine, and some of the most prized are often aged and fermented for decades, or even centuries. The kind used to prepare Trump's dinner can apparently sell for tens of thousands of dollars per liter, too.
PRO-TRUMP RESTAURANT TO REOPEN FOLLOWING FACEBOOK BACKLASH
According to an official menu obtained by Bloomberg, the "exquisite" condiment was used to make a "special sauce" served with the beef rib, which itself was made from a distinct breed of Korean cattle called Hanwoo.
It's unclear if Trump — who preferred fast food on the campaign trail — actually ate the beef or the sauce, but he was also treated to a piece of grilled sole, which is reportedly one of his favorite dishes.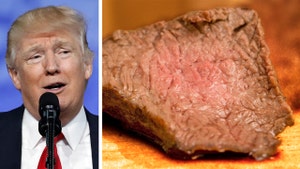 Video
Another notable menu item was "shrimp caught in the waters of Dokdo," an island that's claimed by both South Korea and Japan. Its inclusion, according to Bloomberg, may have been an intentional to provoke discussion about the strained relationship between the two counties.
TRUMP TO START DINING AT LOCAL D.C. EATERIES MORE OFTEN
The meal reportedly concluded with chocolate cake, a dish that he serves at Mar-a-Lago, and famously bragged about in an April interview with the Fox Business Network.
FOLLOW US ON FACEBOOK FOR MORE FOX LIFESTYLE NEWS
Other guests at Tuesday evening's state dinner included first lady Melania Trump, senior advisor Jared Kushner and Secretary of State Rex Tillerson, and, of course, South Korea's President Moon Jae-in.
---
Written by News Desk
---
0 Responses
---
The Battlefield of Ideas
Illuminating the Truth
Lanterns
We're here to fix the machine.
We are here to fix the machine. The machine is the federal government that has been fundamentally transformed the serve the elite instead of "We The People". Our goal is to engage our fellow Americans on the battlefield of ideas to discover the most ideal way for our nation to be governed to provide the most security with the maximum amount of liberty and freedom for all American citizens. We welcome all people from all walks of life and ideologies to engage with us. Join us on the battlefield of ideas.